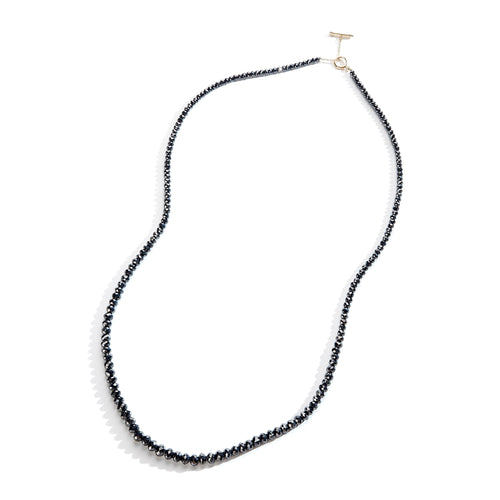 Mogul Black Diamond Bead Necklace
N55363BDIA
A line of graduated black diamond beads makes this necklace from our Mogul collection a sophisticated and sleek must-have. Strung on luxurious wire, this breathtaking, one-of-a-kind necklace has a delicate toggle clasp for a feminine flourish.
18 karat yellow gold
Graduating black diamond beads 115 carats approx.
Length 25 inch
Small Toggle clasp
One of a Kind
Diamonds are among nature's most precious and beautiful creations. Not just for their shiny glittery nature, but also for their composition & hardness. At Syna, we seek out black diamonds for their unique beauty, natural inclusions and all, however, some enhancements, including heating, are performed to achieve this beautiful sparkly black.
We offer complimentary shipping to all our customers. And we give you 7 days to fall in love with your Syna piece. If you decide the piece is not right for you, simply reach out to us to initiate your return, no questions asked. All international orders are final sale.
See Shipping and Returns policy for details.
18 karat yellow gold
Graduating black diamond beads 115 carats approx.
Length 25 inch
Small Toggle clasp
One of a Kind